Back in February over the Family Day long weekend, we jumped in our rented car with our dog and headed to Bowmanville on a whim. We started off our day at Common Good Brewing in Scarborough and decided to check out a brewery we had not been to since their opening party: Manantler Craft Brewing Co. We were keen to see how they settled into their own over the last three years.
Manantler doesn't pop up very frequently on draught lists or bottle lists in Toronto, and they are not in the LCBO. They do pop up periodically at better beer festivals, but realistically if you want to try them, you're going to need to pop into the brewery in Bowmanville, a little more than an hour drive from Toronto.
I drove, which means I spent most of the time in the tap room snacking on corn chips and trying to divert the dog's attention from the bag of nachos. The dog spent most of his time being blurry. It comes naturally to him.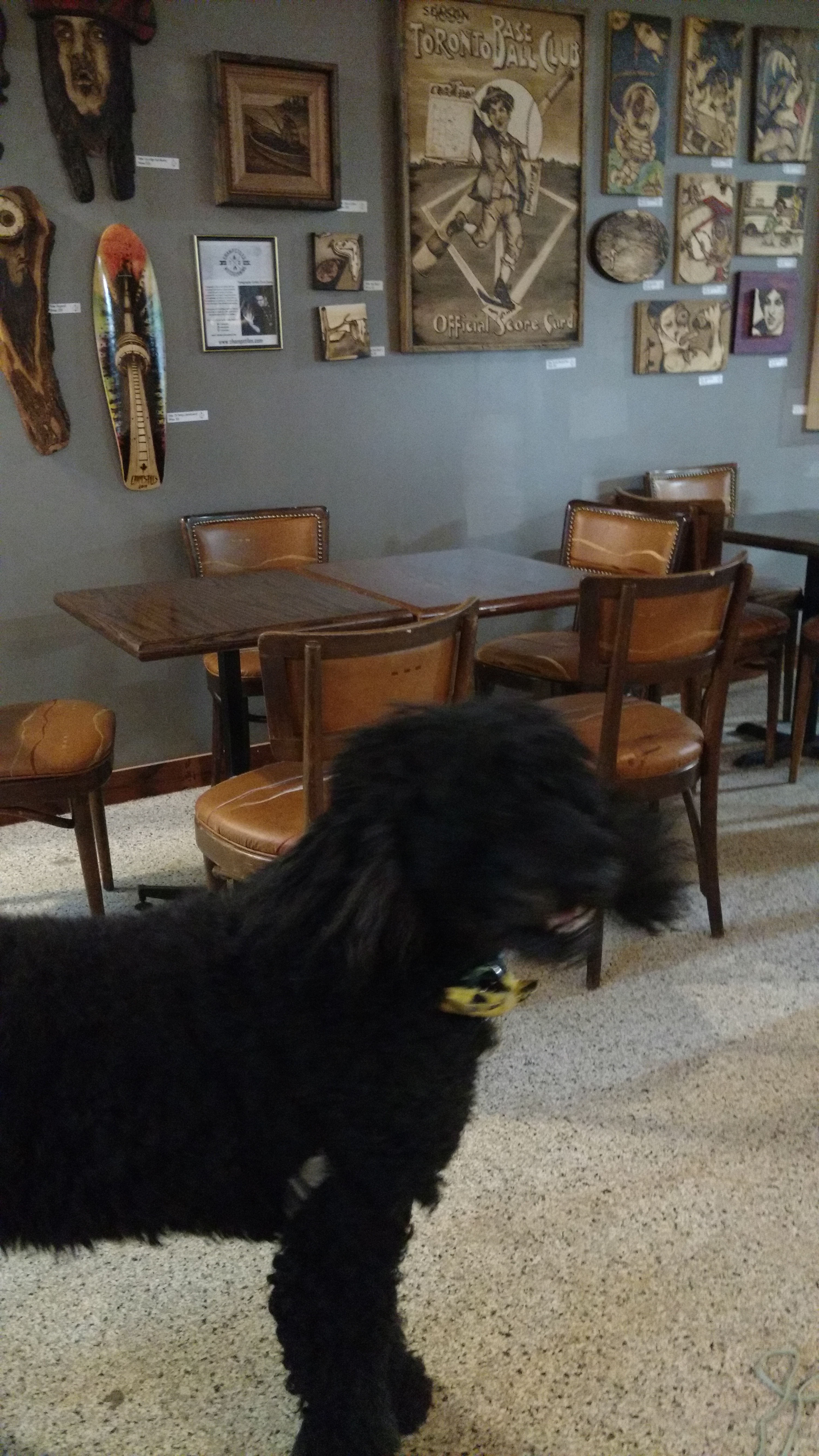 It was fitting to bring him there on Family Day this year. 3 years ago, we stopped at Manantler's opening party on our way home from meeting a very strange rescued poodle at his foster home. He was a handful, and we needed to sit and talk about adopting him over a beer before we came to a decision. Fast forward a few weeks, and we brought this Snuffleupagus look-a-like home from Bowmanville. But we'd never been back.
We snagged a 650 ml bottle of 3 Legged Dog Belgian Triple for the road. I picked that one because of the dog theme – there is a 3 legged dog on our street and I have to announce to Kole whenever I see her out for a walk. She's not very friendly, but neither is our Snuffleupagus. This one is a Belgian Tripel weighing in at 9.5% ABV, so it's definitely something you want to savour slowly. I don't remember what we paid, but I believe it was in the $6-8 range for the bottle. This brew was fermented and aged in Buffalo Trace Bourbon barrels for 4 months, and bottled on January 24, 2018.
Appearance: Deep unfiltered copper colour with a lingering cream coloured head.
Aroma: Bruised red delicious apples, banana peel, figs, candy syrup.
Taste: Cloves, cinnamon, warming alcohol notes, bruised apple, vanilla extract. Figs.
Aftertaste: Bourbon finish, and warm brandy notes.
Food pairing: Kole thought it was fine to have such a strong beer on its own, but I disagreed and fished out some sharp cheddar from the back of the fridge that we forgot we had. We paired it with fig jam on waterthin crackers and it was a lovely afternoon snack.
Overall: A lovely example of a Belgian Tripel style from an Ontario brewery. It was extremely satisfying for a late afternoon tipple.
Latest posts by Shawna O'Flaherty
(see all)