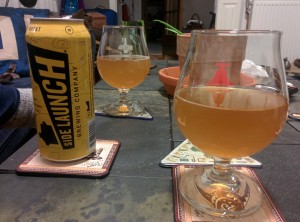 After a weekend of entertaining guests and going on long walks we needed a night of relaxation. This means getting Weeds up on Netflix, reclinging on a couch, playing with our cute little ratties and having a beer.
The beer was Sidelaunch.
And it was good.
More specifically it was 'Wheat' by Side Launch Brewing Co. Side Launch is a newly rebranded brewery, the new project of Denison's Brewing Company.
Side Launch is based out of Collingwood, Ontario and named after the act of launching a boat sideways. According to them, when a boat was launched sideways, the entire town would come and celebrate.
A tallboy will cost you $2.70 and comes in at a healthy 5.3% ABV. Shawna wasn't a fan this time around, but she's definitely enjoyed it in the past both on tap and in a can. This worked out nicely for me, I didn't have to share.
Our tasting notes:
Appearance: Dirty gold or orange. Unfiltered so you'll see sediment and it's opaque. There was basically no head.
Aroma: Very sweet scent. Picked up strawberries, lots of banana and floral hints.
Taste: More of that sweetness. Hints of pear and honey go along with that banana.
Aftertaste: Malty with a little lingering honey.
Overall: A very pleasant and surprisingly sweet beer. Reminds me of the tropics.
Latest posts by Kole McRae
(see all)