On July 27th we started on an adventure that included:
1500 km, 16 breweries, 6 vineyards, 4 distilleries. 3 states, 1 province. 3 hotels, 2 Air Bnbs. 0 fights, 0 flat tires, 0 tickets. And somehow only 1 spilled pint! (My apologies to Shawna for wearing the pint.) We alternated which one of us was the designated driver each day.
While most of southern Ontario takes a trip up to Muskoka whenever a long weekend shows itself, we decided to do something a little more interesting. Instead of a quick jaunt to a cottage we took a trip around the entirety of the youngest (and most shallow!) great lake to sample a massive amount of wonderful hand crafted drinks.
First, the map of our adventure can be found below. You'll note a huge amount of stops along the way. Feel free to click them to see which places we attempted to stop at. Sadly, timing made it impossible to stop at every single one but I think we did a pretty darned good job.
Here be the map:
Day 1
We took a very… Unique route to begin with. Some might wonder why we went to Leamington instead of going straight to Windsor, it's not like Windsor is THAT far from Toronto. Mostly it was to reduce the driving. It also gave us the opportunity to visit mainland Canada's southernmost point.
We visited a place called the Blue Elephant first. This was billed as a brew pub and we had never heard of it, so we had to check it out. Located in Simcoe, ON it's a bit off the beaten path.
The beer itself was somewhat dull. Consisting mostly of lagers with slight variations. We were given a red ale with a lime, something we didn't expect. Quickly we discovered this was to hide some off flavours, diacetyl in particular . We found the food left a good amount to be desired. We were given a cold grilled cheese sandwich.
The next stop was a farm brewery called Rambling Road in La Salette, ON. This place quickly replaced the bad taste in our mouth with deliciousness. Rambling Road is Ontario's first farm brewery, growing everything they use in the beer right on location.
The entire place is super photogenic! Here take a look at these!
The IPA was amazing and it was awesome to see the hops growing. They offer free samples to all interested.
They told us of a place called New Limburg Brewing which was 5 minutes away in Simcoe, ON, and built into an old elementary school which of course we had to check out!
This turned out to be an amazing stop. They kept all the old school equipment and brewed mostly Belgian style ales, a place after my own heart.
The people were friendly and the employees knowledgeable. They earned the OBAs. Also, how can you fault a beer brewed in an old school library. The local patrons were wonderfully chatty and we adored them.
From there we continued on Highway 3, gawking at the windmills and oil rigs.
We stopped at Leamington and stayed overnight in a beautiful cabin. Here is the view!
Day 2
Being in Leamington we had to make a stop at Point Pelee National Park. This is the most southern point of mainland Canada and is at the same latitude as northern California. The Carolinian forests are closer to jungles than the Canadian forests we know.
We loved seeing the Point but were eaten alive by bugs. If you go bring bug spray!
We then ventured to Kingsville, a town I know nothing about, and checked out a gastropub named Jacks with their own in-brewery, Banded Goose Brewing Co. The place had a wonderful patio. The food was amazing, starting with fresh baked sourdough and only getting better.
The beer was good too, with a saison being the highlight. It was malty but a bit sour. Great in the heat.
Along the long stretch to Detroit we took the time to stop at two vineyards. The first called Oxley which had a great 2015 Riesling and then to View Pointe located in Harrow, ON.  Both offered beautiful views and a nice rest on the long drive.
We also discovered a distillery that has just opened called WolfHead in Amherstburg. I noticed the massive walls of barrels and we HAD to stop there. They let us try a few of their drinks and then we purchased a bottle of their whiskey. I will certainly post a review with more info on them soon enough.
Fast forwarding a bit we finally made it to Detroit. It was surprising just how empty the city seemed. Coming from a city that never sleeps – like Toronto – the streets and sidewalks were completely empty at 6 pm. It was jarring.
We started walking from downtown to a place called Jolly Pumpkin. Before getting there though we discovered what looked like a craft beer store. Entering we were happy to see a tap room at the back. We jumped at the chance for a rest and a beer. The bar tender was super knowledgeable and we loved the place. Turns out it's one of the first craft beer stores in Detroit and is called 8 Degrees Plato on Cass St.
Jolly Pumpkin was next. It reminded me a bit of WRST in terms of long communal tables and a counter-ordering system. Jolly Pumpking had the best pizza I've had in a long time and lots of amazing beers including a sour IPA that I loved. The place was very loud and pretty full. It was larger than we expected but a lot of fun. They easily had the best list of sour beers we had seen thus far on this trip. Also a police on horse patrol passed by mid-meal, and it had a sense of nostalgia that we fell in love with.
We then ran across the street to Motor City Brewing, a more pub-like brew pub that has a wide range of beers. After hours of driving and walking we were only able to finish one flight before calling it a night. It was a great flight though with a mix of very unique flavours. I honestly can't remember much else other than that and at this point in the night my notes became impossible to read. Why must great beer have that effect on me?
Day 3
On day 3 we started with breakfast at the Dime Store, a wonderful brunch spot near our hotel. If you are in the area I highly recommend you give them a try.
We then went searching in the East Market for a distillery that we discovered wouldn't be open for many hours. #fail.
This got us to head to Atwater Brewing. A large brewery that has a wide selection of beers, distilled products and more. We picked up a 6-pack in Buffalo on the final stretch to avoid it cooking in the car and ruining the beer. The server was awesome and knowledgeable. The craft beer scene in the US is amazing.
Then the driving began again. This time we broke up the trip to Cleveland with a stop at Maumee Bay Brewing in Toledo, OH. It's a cute brew pub that offers your average bar fair. It has a lot of beer history and memorabilia on the walls, similar to Beer Bistro on King. The only issue is the beer itself was very dull, consisting of literally the most boring beer you can guess. There was nothing technically wrong with it, but it's not going to set your taste buds alight.
Continuing on we visited Sibling Revelry in Westlake, OH on the outskirts of Cleveland. This shiny new brewery that looks like they just finished taking the plastic off their equipment. It's huge for a new place.
The beer is a little uninspired but with time will improve. We did like their flight holders that were shaped like the great state they are based in. 
Finally making it in to Cleveland we went to the beer district as some might call it. First we hit up Market Garden Brewery. We got there around 9 on a Friday so it was quite busy. The issue became that the crowd went from craft beer nerds to club living bros asking for Miller Light while we ate.
Trying to get away from the drunken antics we went to Nano, the sister brewery of Market Garden Brewery and a pub that is much closer to our style. Dark, artistic and funky with a great beer list to match. Their tiny brewing system makes Folly's look huge. They also have over 20 taps of local craft beer available to try!
Day 4
We began the day with the Rock and Roll Hall of Fame. Shawna got asked for ID and spent the rest of the trip talking about it. Apparently that's a big deal in your 30s? I'm in trouble for saying she's in her 30's, aren't I?
This was fun but 3 hours walking around made us thirst for some beer! We left the car at the hotel so we didn't have to swap designated driving turns today. We went to Great Lakes Brewing and had a wonderful time. Yes, there is a brewery with a VERY similar name here in Ontario but these two companies are very different and make totally different beers! Somehow while there we both accidentally ordered vegetarian food. I guess our bodies were rebelling against all the fried food!
Be forewarned, if you order a flight, it is a flight of EVERY SINGLE BEER they sell. We generally ask for a flight each but the server suggested just one flight is enough for two. They weren't kidding. If you like one you can always buy a pint! We haven't seen such a huge flight since we went to China.
From there we visited a small brewery we walked by the day before called Brick and Barrel. The server there was a lot of fun to chat with and reminded us of the Sawdust City Boys back home. We ended up trying almost all of their beers. The server was convinced the Bloody Caeser is a drink Canada invented to troll Americans. At this point things were a bit blurry and my notes get hard to read.
We ended the night at Port Side Distillery, a rum distillery that also brews beer. They had a cask special bitter going that was amazing and was only $3 a pint. Let's say I took advantage of that. Right to the point of accidentally spilling a whole beer on Shawna.
Day 5
This was another long driving day for us. On the way to Buffalo we stopped in Madison County, OH. We first visited a vineyard called Hundley Cellars in Geneva. The people there were friendly but the wine left a lot to be desired.  We then went on to a distillery called Red Eagle. I have a bottle of their rye sitting on a shelf. It wont last long. 
I should mention that none of these stops were actually planned, we just discovered these places while driving around. The vineyard suggested the distillery (and we only found it because of a sign!) and the distillery suggested the next vineyard, which was Southriver, a super cute vineyard built using an old church! Shawna made us stop to look at the covered bridges in Madison. Apparently there's some movie called The Bridges of Madison County? She was being lame but she was driving the car, so her rules.
We had to make a stop in Pennsylvania to say we've been there so we went to Erie and had a flight at a brewery called Lavery that had a wonderful sour wit. Shawna chose this one cause she had a roommate with the last name Lavery, and she wanted to buy him a shirt. Fair enough. We tried to go to The Brewerie at Union Station around the block for some brewpub eats, but they were closed on Sunday. Let that sink in for a bit.
Finally making it into Buffalo we hit up Anchor bar where the Buffalo wing was invented. The wings rocked.
Day 6 the final day.
More driving this day as always. We started by heading to a beer store and grabbing a bunch of great craft beer from the USA. It was totally under our duty limit…. Yup, totally. (shifty eyes).
We then crossed the border and headed into Niagara-On-The-Lake. We stopped at Oast House first, a brewery we have been planning to visit for ages. They gave us a sample of sour cherry ale that we fell in love with. Their sours in general were wonderful. They also have a great outdoors patio in the back that we recommend you check out!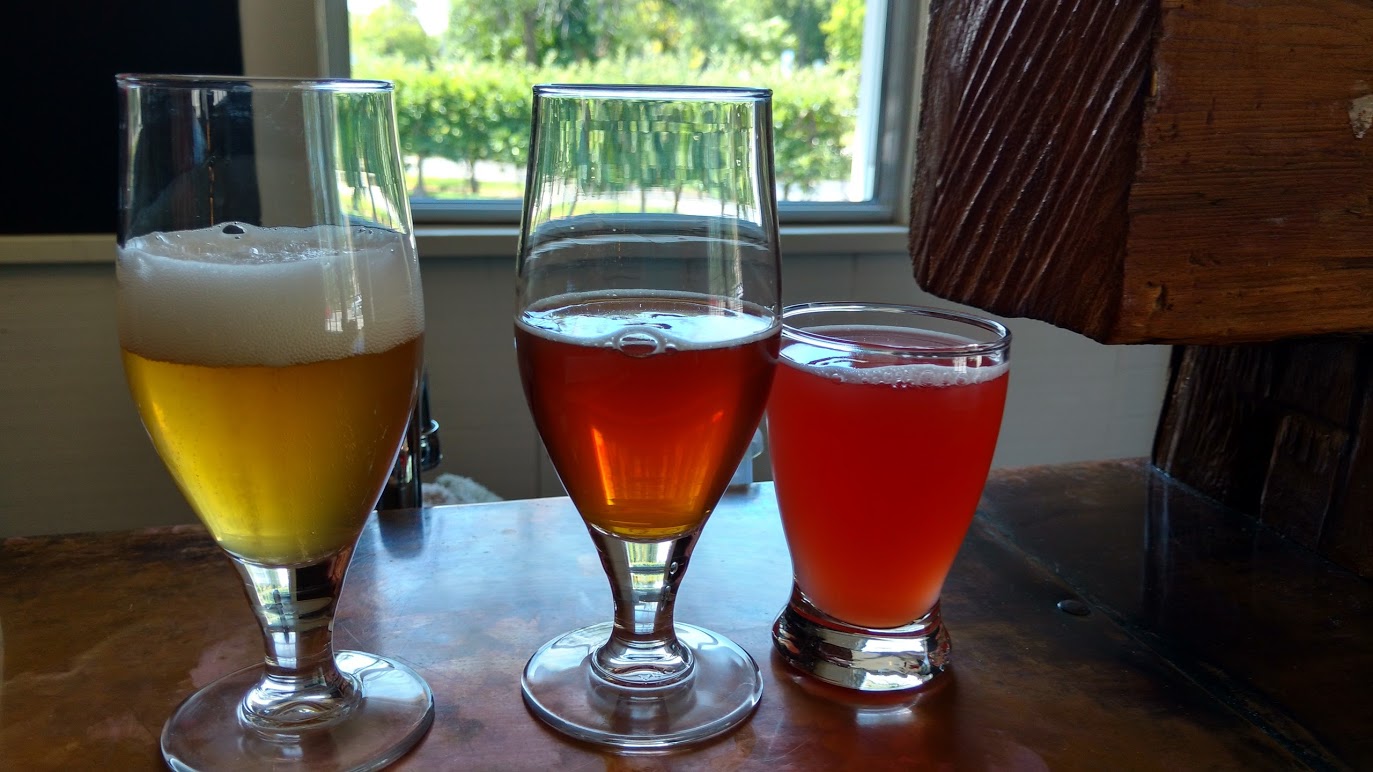 Next up was Silversmith Brewing. We sat outside and sadly the beer got skunked pretty quickly but at first it was great. The food on the other hand was amazing. We recommend the Po' Boy!
We also went to some vineyards including Chateau Des Charmes and Ravine, both had great wine on beautiful properties. We picked up a few bottles we will certainly be reviewing.
Finally we made it to Dillon's in Lincoln, ON, a distillery that we already love. We got in 10 minutes before the closed but were able to try a few of their products and picked up some Limoncello that we will be reviewing.
And thus our trip came to an end. We had a great and exciting time, tried a lot of new drinks and made a few friends along the way.
Stay tuned for reviews of some of the products we purchased along the way and of course any future road trips we might go on!
**Special thanks to Shawna for planning the trip, researching the breweries, distilleries, and vineyards, putting up with me in the car, and editing this post.
Latest posts by Kole McRae
(see all)